Tooth wear is a normal result of aging and most people experience some degrees of it. However, some people may experience more or different kinds of tooth wear than others. The extent and pattern of tooth wear may be a sign of bad habits or underlying disease and it is important for your doctor to assess, diagnose, and treat significant tooth wear before it's too late.
Wear starts with loss of the hard, translucent enamel that forms the outer covering of teeth and might, in more serious cases, progress to the softer inner tooth structure known as dentin. Enamel is the human body's hardest substance. It is highly mineralized and non-living, in contrast to bone and dentin which are living tissues. Enamel is highly resistant to wear and chemical attack, as it would have to be given what your teeth do every day: bite, chew, and come in contact with acidic foods and drinks. Still, it is possible for tooth enamel to wear down for various reasons. Your body has ways of compensating for minor wear, but when tooth wear becomes more significant, intervention may be necessary to keep your bite functioning properly and protect your teeth.

Types of Tooth Wear
Tooth wear can result from one or more of these processes:
Abrasion: This is caused by frequent rubbing or scraping of materials against the surfaces of teeth. The most common source of abrasion is traumatic tooth brushing, meaning that you are using a toothbrush that's too hard or applying too much force when you brush. This can affect the gums, the root surfaces of your teeth just below the gum line, or the enamel above the gum line and can lead to recession. Other causes of abrasion can include improper use of toothpicks and dental floss, and some dental appliances that are frequently taken in and out of the mouth. Abrasion can also result from a diet high in abrasive foods like sunflower seeds and nuts or habits such as nail-biting and pen-chewing.

Attrition: This is an effect of tooth-to-tooth contact, which happens many times throughout the day as your teeth bite and chew food. Biting and chewing normally generate forces between 13 - 23 pounds. Yet people who have clenching and grinding habits (of which they might not even be aware) can subject their teeth to forces up to 10 times that, significantly damaging the biting surfaces of teeth.

Erosion: When your teeth come in contact with acidic substances in your diet, the acid can actually erode (dissolve) the enamel on your teeth. Sodas, sports drinks, "energy drinks", and certain fruit juices can all contribute to acid erosion. Confining these drinks to mealtimes and swishing water in your mouth after drinking them can help limit their erosive effects. Erosion can also be caused by stomach acids. Erosion that occurs specifically on the inside surfaces of teeth can be a sign of underlying issues, such as gastric reflux or bulimia.
Abfraction: This refers specifically to the loss of tooth enamel at the necks of the teeth (the thinner part right at the gum line). While this type of wear is not clearly understood and the cause is debated in dentistry, loss of tooth structure at the neck of teeth does happen. It is believed to be caused by tooth flexion from biting forces. Abrasion and erosion can also contribute to and further exacerbate this problem.
Treating Worn Teeth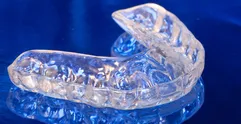 In order to treat your worn teeth, the cause of the wear must be determined during a simple oral examination at the dental office. Sometimes the culprit may be obvious based on the appearance of the wear, but oftentimes it's a combination of several factors. Once the causes have been identified, the stresses on your teeth can be reduced if need be. For example, you may need instruction on gentle, effective tooth brushing techniques; or some changes to your diet. If you have a clenching or grinding habit, an occlusal guard can be custom-made for you that will protect your teeth during sleep or periods of high stress.
After the source of tooth loss is addressed, lost tooth structure may need to be replaced so your bite functions properly and your teeth look normal again. Depending on the situation, this can be done with bonding, veneers, or crowns. Teeth that have lost tooth structure on biting surfaces may shift vertically to maintain contact with the opposing teeth as the tooth structure is lost. This can dramatically alter the size and position of teeth, especially when anterior teeth are worn, and restoring them may require orthodontic movement to realign them. Fortunately, modern dentistry can give you multiple options to restore the normal shape, position, appearance and function of worn teeth to give you a result you can smile about.