What is a dental crown or cap?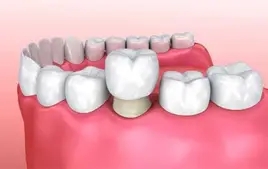 Dentistry is an art as well as a science; dental crowns offer a perfect example of this. A
dental crown or "cap" is a covering that fits over a damaged, decayed or unattractive tooth, restoring it to normal function again. It can even replace a tooth entirely as part of dental bridgework. A crown completely covers a tooth above the gum line. This is in contrast to a dental veneer, which only covers a tooth's front surface and needs natural tooth structure to support it. Therefore, if a tooth is missing a significant amount of structure above the gum line, a crown would be the restoration of choice.
There are a variety of materials available for dental crowns, each with different properties that can help narrow down which one is right for you. The high-tech porcelains and ceramics available today can make crowns virtually indistinguishable from natural teeth. They can even be designed to improve upon a tooth's original appearance. There are other materials besides porcelain/ceramic that may be better for you depending on what qualities are most important. Cast gold is the toughest material available, however, this is not always the most aesthetic choice — especially towards the front of the mouth. Other possibilities include porcelain-fused-to-metal crowns (PFM), which have a metal interior for strength and a porcelain exterior for a more natural appearance.
Within all-ceramic crowns, there are still options available that offer combinations of
strength and aesthetics. For example, zirconia based crowns are the strongest ceramic crowns available, but have an opaque appearance and may not be ideal for front teeth; while E. max — lithium disilicate — crowns offer strength comparable to some zirconia crowns and have better shade matching properties to natural teeth. Your dentist can discuss each of these options with you to help decide the best one for you and your needs.
Why do I need a crown?
Crowns are most often needed when the structural integrity of the tooth has been damaged and can no longer withstand the biting forces of the mouth. This can be caused by decay that is too large to be replaced by a filling alone, a fracture or cracked tooth, heavy wear, or a tooth that has undergone a root canal. Crowns can also be utilized when someone wants to change the shape or appearance of their teeth. With today's technology, crowns can be made to mimic the natural appearance of teeth, but can be designed to give you the smile you've always wanted.
What happens when I get a crown?
Crowning or
capping a tooth
used to take two to three visits, but can now be completed in one visit in most cases. First your dentist will assess the status of your tooth and determine how much damage or breakdown is present. If there is significant tooth loss, your dentist will have to build the tooth back up again before preparing it to fit underneath the crown. This procedure is similar to having a regular filling. Once the
core build up procedure
is complete, your dentist will then shave down the tooth with the dental drill to create a uniform shape that can hold the new crown in place.

After the tooth is prepared, a digital impression is taken with a scanner that can be sent to a lab or an in-office mill. Previously, this step required manual impressions that involved putting putty-like materials inside your mouth to capture the shape of the crown prep. Those impressions would then have to be sent to a lab for fabrication of the permanent crown and you would have to leave the office with a temporary crown until the new one was ready. Now, with the use of digital technology and an in-office mill, your dentist can shape, design, and fabricate your crown to match your smile and bite, all without you having to leave the dental chair.
Once the crown is ready for delivery, your crown will be tried in to ensure it fits and functions properly. At this point, the appearance can be evaluated and any adjustments made before it is permanently cemented into your mouth. With proper care, dental crowns can last years and can drastically improve the function of your teeth and appearance of your smile.
What is a dental bridge and why do I need one?
Crowns can also be used to create a lifelike replacement for a missing tooth. This is done with
bridgework
, which spans the space of the lost tooth and requires abutment teeth to support the crown of the replacement tooth, called a pontic. Abutment teeth will be shaved down, or prepared, like for a single tooth crown, but must be healthy and sturdy enough to support the forces applied to the pontic. In traditional bridges, at least two abutment teeth are required, one either side of the missing space. The crowns on the abutment teeth are attached to the pontic to create one fixed unit. In some cases, it's possible to have a bridge that replaces more than one missing tooth in a row with multiple pontics spanned between abutment crowns. In unique cases, a pontic can be supported on one side with a single abutment tooth. This is called a
cantilever
, or Maryland bridge, and is only applicable to certain situations.
The number of abutment teeth necessary to replace missing teeth is influenced by the number of missing teeth, the size and length of the abutment tooth roots, the amount of bone support each abutment tooth has, and where in the mouth the missing tooth is located. For example, if you have three missing teeth, four abutment teeth may be necessary, thereby creating a seven-tooth bridge. Engineering and designing of the bridge requires an understanding of how to replace teeth, as well as the biology of the supporting gum and bone tissue, which can influence the final appearance of the restoration.
Post operative instructions for crowns and bridgework are similar to those for most dental procedures. It is important to be cautious with eating and drinking while the area is still numb and to avoid chewing on that side. Some post operative sensitivity to chewing or temperature is normal and may last a few days to weeks. It's important to contact your doctor if the pain worsens or lasts longer than usual.
Caring for your Crowns & Bridgework
Crowns and bridgework require the same conscientious care as your natural teeth. Be sure to brush and floss between all of your teeth — restored and natural — every day to reduce the buildup of dental plaque. With bridgework, extra steps will be required in order to floss and clean under the pontic, however they are necessary to ensure longevity of the restoration. When you have crowns & bridgework, it is even more important to maintain your regular schedule of cleanings at the dental office. Avoid using your teeth as tools (to open packages, for example). If you have a grinding habit, wearing a nightguard would be a good idea to protect your teeth and your investment. As with any restoration, crowns & bridges may need to be replaced over time, however meticulous care can increase their lifetime by years.