At Gooding Dental Health, we strive to give our patients healthy smiles they can be confident with. While healthy and functional teeth are of utmost importance to us, we know there is more to patient happiness. Through our cosmetic dentistry services, we can help patients achieve the smiles they've always wanted.

Cosmetic Bonding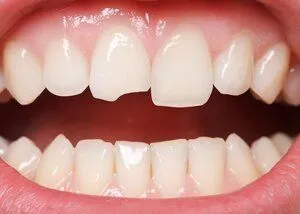 Cosmetic bonding uses tooth-colored dental composite to replace missing tooth structure or hide cosmetically unappealing minor defects in a tooth including: chips, discoloration, misshapen teeth, areas of recession, signs of wear, and even minor spacing irregularities. When bonding is done with a skilled hand and an artistic eye, it may be impossible to distinguish the bonded tooth from its neighbors.
Bonding is done the same way a filling is, however depending on the situation, drilling may not even be required. By simply preparing the tooth surface with an etchant and a bonding agent, your dentist can chemically bond the composite to your tooth. In some situations, cosmetic bonding can even be used to cover the entire surface of your tooth, to change the shape or color, without ever drilling into your natural tooth. Though bonding will not last as long as a dental crown or veneer, it's a great option for those who are not ready to commit to a more permanent option.
Crowns & Veneers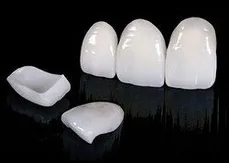 For misshapen, heavily worn, discolored, or severely damaged teeth, dental crowns or veneers may be a better cosmetic option for you. The difference between dental crowns and veneers is that crowns, or caps, cover the entire surface of the tooth and require drilling on all sides, while veneers only cover the front surfaces of teeth and may not require any drilling at all. Veneers are a less invasive procedure compared to crowns, however they lack strength and may not be ideal for individuals who are heavy clencher/grinders or who are missing significant tooth structure already. Both crowns and veneers are permanent restorations, but will last much longer than cosmetic bonding if cared for and will not stain or become discolored over time.
At our office, we can give our patients same-day crowns or veneers. With our CAD/CAM scanner and dental mill, we can design and make all our crowns and veneers chair-side so patients can walk out of the office with an entirely new smile in one visit. With a wide selection of materials and shades, our doctors can help you find the right fit for you.
Teeth Whitening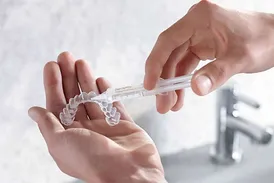 For patients who are interested in brightening the appearance of their natural teeth, we offer at home whitening kits. We make our patients reusable dental trays and give them a bleaching solution they can place in the trays and wear. This gives our patients the freedom of whitening in their own home and as many times as they are comfortable with until they achieve the desired result. With our at home whitening kits, results may take a few days longer to become noticeable compared to same-day whitening, however the results last for much longer. In addition, patients don't need to make additional appointments if they notice their teeth becoming stained again, they can simply can re-whiten at home any time they want.
Whitening can also be used before cosmetic bonding or crowns/veneers for patients who aren't having restorations on all their natural teeth. This allows you and your dentist to better select a final shade and achieve a more natural final result.
Invisalign
Invisalign is an amazing option we give to our patients. With the ability to move teeth, we can give some patients a smile that they'll love without having to drill on any teeth. For teeth that have shifted and are heavily worn or damage, a combination of tooth movement and restorations may be necessary, but our dentists would be happy to discuss all available options with you.
As with any discipline in dentistry, cosmetic dentistry is multifaceted. In order to give you your desired result, our dentists may offer a combination of some or all of these procedures. We know that your smile is important to you, and will do everything we can to inform you of all possible options so you can make the right decision for yourself.