At Gooding Dental Health, we believe impeccable oral hygiene is the key to maintaining oral health. We want to educate our patients on the best ways to keep their mouths clean and help them understand the causes and precursors to oral disease. Our doctors and hygienists are trained to be meticulous and critical when assessing our patients hygiene. We want our patients' teeth to last them a lifetime and that begins with perfect hygiene.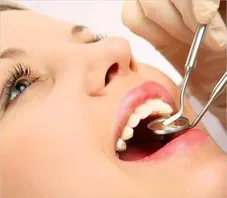 At our office we offer patients professional cleanings every 3, 4, or 6 months depending on their needs. We want our patients to be fully informed on the best brushing and flossing techniques to help them maintain a clean mouth at home. We spend time reviewing areas that may be more prone to build up and showing patients how they can improve their at home care. For patients that are susceptible to heavy plaque or tarter build up, we recommend 3 or 4 month professional cleanings to ensure their mouths stay free of disease.
When patients are unable to maintain proper at home hygiene or regular professional cleanings, they are at risk for developing gum diseases such as gingivitis and periodontitis. Poor oral hygiene can also put someone at a higher risk for cavities. Gum diseases occur when plaque and tarter build up around and beneath the gumline and cause inflammation and eventually bone loss. With progressive bone loss, patients are at risk of losing teeth. We recommend our patients that have been diagnosed with gum disease have a series of deep cleanings and subsequent periodontal maintenance visits as opposed to regular cleanings. These practices help slow progression of disease and reduce further bone loss.
As part of our routine hygiene program, we take digital x-rays and gum measurements (probing) yearly to monitor and diagnose any disease progression. By heeding our recommendations for diagnostic procedures, we can diagnose and treat any disease that you may have in a timely manner, saving you time and money in the long run.
For more information about periodontal diseases and the services that remedy them, please visit our Periodontal Therapy education page.
Our goal at our office is to keep you healthy, happy, and fully informed. We strive to work with our patients to better their understanding of their oral health needs. Our doctors and hygienists are always happy to answer any questions you may have and encourage you to explore our website for more information.