Implants are the standard of care when it comes to replacing missing teeth. They have the highest documented success rate, over 95%, compared to any other tooth-replacement option. They provide the closest match in appearance and function of natural teeth compared to other tooth replacement options; they don't rely on the integrity of adjacent teeth for support; and they help preserve bone. Loss of tooth-supporting bone is one of the major hidden consequences of losing teeth. Most patients will find that the added time and cost involved with implant procedures are greatly outweighed by their benefits.
What is a dental implant?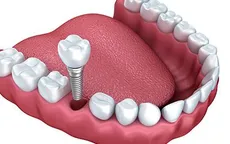 A dental implant is a small screw-shaped titanium post that replaces the root-part of a missing tooth. The surgical procedure used to place an implant is minor and usually only requires local anesthesia and can be done by a dental surgeon or your regular dentist. The dental implant is inserted directly into the jawbone where the missing tooth used to be. It is then left to heal for a period of months before the final crown is attached. During this healing period, the gums where the implant was placed grow over the post and the implant actually fuses to the bone surrounding it. After the implant is healed, your dentist will punch a hole in the gum tissue over the implant and screw a healing cap over it. This healing cap is left in place for another few weeks and shapes the gums to accept the implant crown. Once all the healing is complete, the implant crown or bridge can either be cemented or screwed in place.
Tooth Replacement Options with Implants
Implants can be restored to replace missing teeth in a variety of ways:
Replace One Tooth — Implants are the best long-term investment for replacing a single missing tooth. Even if the initial cost is slightly higher than other options, it is the most cost-effective and conservative solution. In comparison to a fixed bridge, an implant will never decay or need root canal treatment, and doesn't require removing tooth structure from adjacent teeth.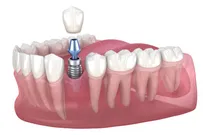 To replace a single tooth, an implant can be crowned similarly to a traditional dental crown. After the implant and healing cap are fully healed, an abutment is screwed into the implant post and mimics the shape of a prepared tooth. This abutment is then impressed or digitally scanned so a crown can be made to fit and function properly in your mouth. It can be shaped and designed specifically to your mouth just as a traditional crown would. Implant crowns can either be cemented to the abutment, or screwed in to the implant post directly. Screw-in implant crowns give your dentist the ability to remove the crown without damaging it, while still acting as a fixed restoration.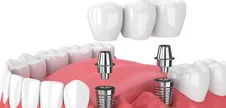 Replace Multiple Teeth — When you have more than one tooth missing, implant teeth can act as supports for implant supported fixed bridge. For example, if you are missing three teeth in a row, we can place two implants, one on either side of the gap, and a pontic crown in between. That way, you won't need to use any of your remaining natural teeth as bridge supports, conserving your natural tooth structure.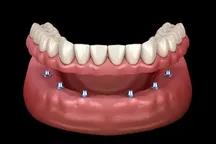 Replace All Teeth Permanently — Implants can support an entire arch of upper or lower replacement teeth that are fixed into the mouth and are never removed. These are called screw-retained, or hybrid, dentures. Hybrid dentures differ from over-dentures in that they are screwed into the implants and are not removable. They are much less bulky than over-dentures and removable dentures because they don't rely on suction for retention. In some cases hybrid dentures can be supported by as few as 4 implants. In cases where jawbone density and volume have deteriorated, 5 or 6 implants might be needed. Utilizing dental implants to replace teeth will give you stable functionality while protecting your jawbone and should last a lifetime with proper care.
Implant Care and Maintenance
The two most common ways an implant can fail once it has successfully fused to bone are poor oral hygiene and excessive biting forces. Poor oral hygiene and/or a lack of regular cleanings can lead to a destructive bacterial infection called peri-implantitis. Flossing and brushing your teeth on a daily basis, along with regular professional cleanings, can prevent this. Excessive biting forces can come from either a habit of clenching or grinding your teeth, or an insufficient number of implants to handle the forces generated by your bite. You should always listen to the recommendation of your dental surgeon or dentist for the correct number of implants needed so this does not happen. If you have a habit of grinding or clenching your teeth, a nightguard will be recommended to further protect your implants.
How do I know if I can have dental implants?
Implants are the ideal option for tooth replacement due to their high success rate.
However, the success of implants is dependent on critical patient selection. Implants rely on adequate bone to give you a fully functional tooth replacement. If you have had significant bone loss, you may require additional bone graftings to ensure adequate support for the implants. Similarly, your anatomy may affect implant placement and position and you could require additional surgeries for ideal results. If you are a smoker or have pre-existing conditions, such as diabetes or osteoporosis, it may be more difficult for implants to fuse to your jaw bone. Your dental surgeon or dentist will help assess your bone density and any health conditions you have to determine the best option for you.