From chipped teeth to painful infections, we can take care of all your emergency needs at Gooding Dental Health. With two doctors and two locations, we can ensure our patients have access to emergency care in a timely manner. Both our doctors live locally and we always have at least one doctor on call to care for any emergencies that may arise.
Chipped Teeth
Small or moderate chips on teeth may not seem like an emergency until they happen on your front tooth before an important day. The doctors and staff at our office recognize that a minor chipped tooth can be a major problem in certain situations. Most chipped teeth can be remedied with a simple filling that can be performed the same day as the emergency visit. If a chipped tooth is more extensive, our doctors can explain other options available to restore the tooth if needed.
Dental Trauma
For more severely broken teeth or circumstances of dental trauma involving excessive force to the teeth or jaw bone, a simple filling may not be enough. Whether broken teeth need crowns, root canals, or simple extractions, our doctors will be able to diagnose your needs and give you all possible options to restore your teeth. With the ability to mill crowns and bridges in our office, most broken teeth can be restored in one visit. For teeth that can't be saved, our doctors can can have a strong temporary bridge milled and delivered on the same day as the extraction to preserve your smile while you heal.
Root Canal Therapy
For emergencies involving severe tooth pain, our doctors are well equipped to properly assess and diagnose the source tooth pains. The most common cause of a tooth ache is when the nerve tissue inside the tooth becomes infected. Fortunately, Dr. Michael and Dr. Mia are fully capable of treating most endodontic (root canal) cases themselves, eliminating the need for patients to have to see a specialist elsewhere for their procedure. Dr. Michael has been successfully performing root canal therapy on his patients for the last 30 years. Dr. Mia has only been in practice since 2018, but received an award for her endodontic therapy while in school and is treating root canals everyday alongside her father.
A tooth ache is never a pleasant experience, but rest assured that our doctors and staff will take every effort to ensure your treatment is a calm and pain free experience.
Extractions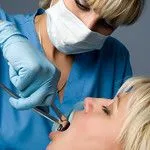 If a tooth has been damaged enough that it is deemed hopeless or non-restorable, our doctors will recommend extracting it. Similarly, if a patient does not wish to have the treatment necessary to restore a damaged or infected tooth, they may opt to have it extracted. Our doctors are capable of performing most non-surgical extractions. Teeth that are impacted in the bone, ankylosed (fused to the bone), or fractured along the root may require a surgical extraction and would be referred to a local and trusted oral surgeon. We always discuss all options and possibilities with patients before they commit to any procedure.
If you have a life-threatening or severe injury, call 911 or go directly to the nearest hospital emergency room.