What can I do to prevent cavities?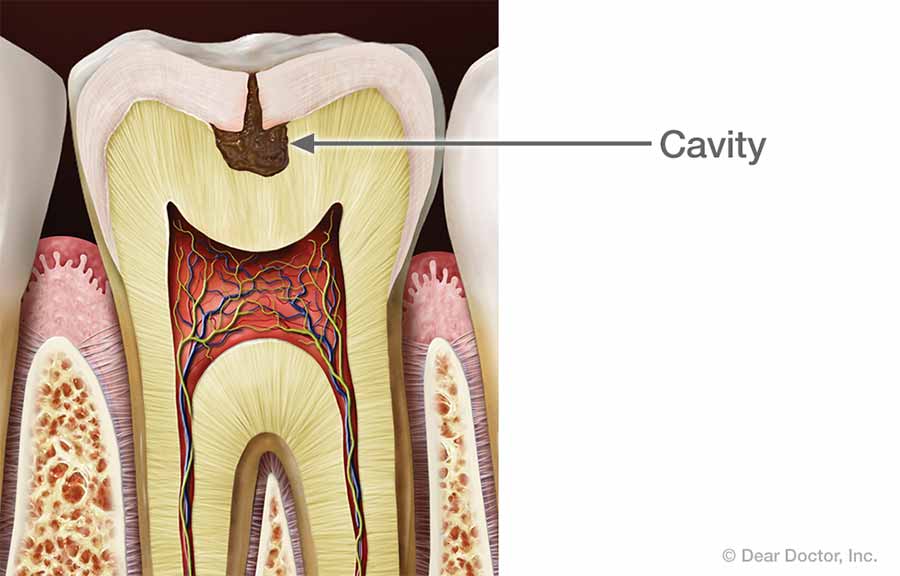 Your body's saliva carries natural defense mechanisms to try to combat the harmful bacteria in plaque, however this isn't enough to stop tooth decay from forming. It's necessary to practice good brushing and flossing techniques two or more times a day to remove plaque before the bacteria can damage your enamel. Our diet can also play a role in the progression of decay. The more often sugary or acidic foods are consumed, the easier it is for the bacteria to demineralize tooth structure. Even if all these factors are taken into consideration, everyone is different, and some people may be more prone to plaque build up or decay than others. Having professional cleanings and dental exams can help your dentist monitor your oral health and make recommendations specific to your needs.

Home Care
First and foremost, the best treatment for oral disease is prevention. Practicing good oral hygiene techniques at home is the first line of defense against cavities and gum disease. When brushing, it's important to spend at least 30 seconds per quadrant of the mouth (2 minutes total), making sure to spend time brushing all surfaces of each tooth. You must keep your toothbrush at a 45 degree angle to the teeth, with half the bristles on the tooth and half on the gums. Always use toothbrushes with soft or extra soft bristles and refrain from brushing too hard. Brushing with proper technique should eliminate the need to brush "hard" or use a hard or medium bristle brush that can damage teeth and gums. It's important to brush in circular, front and back, and up and down motions to clear all the plaque from the surfaces of your teeth.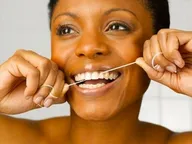 When flossing, wrap the floss around each tooth, forming a "c" shape, and gently drag the floss up and down and back and forth along the side of the tooth. It's important to drag the floss underneath the gums adjacent to the tooth to remove the plaque between the teeth and below the gums that can't be reached with the toothbrush. If you have any questions or would like a demonstration, your dentist or hygienist would be happy to review these techniques with you.
Brushing a minimum of twice a day, morning and night, along with flossing at least once a day, is recommended for most people, however if you are prone to heavy plaque or tartar build up, more frequent brushing and flossing may be recommended.
Diet
Another potential factor that could increase your susceptibility to decay is diet. Eating a diet high in sugars or acid speeds up the breakdown of tooth structure into cavities. The bacteria in plaque uses sugar from the food we eat to create an acidic environment next to your tooth. This allows them to demineralize and damage your tooth structure. Your saliva plays a role in reducing the acidity of the oral cavity after eating, but can only do so much. The more often you eat, especially foods high in sugar or acid, the more difficult it is to control this environment. Limiting snacking and eating healthier options can help reduce this breakdown. Drinking water between meals and brushing your teeth often are also good habits to protect your teeth.

Preventives
If you are practicing good oral hygiene techniques and habits, but still suffer from frequent cavities, your dentist can offer some preventive measures to help. There are a variety of toothpastes and mouth rinses your dentist can prescribe as well as in-office topical fluoride treatments to help strengthen enamel and reduce susceptibility to decay.
For children who suffer from a lot of decay or who haven't developed good brushing habits yet, dental sealants are a great option. Sealants are a special type of composite that's applied to the chewing surfaces of adult molars. They don't require any drilling and are bonded into the natural pits and folds of teeth. By covering up these areas that plaque would normally stick to, the teeth are much more resistant to bacterial damage.

Lastly, as always, it's essential to visit the dentist regularly for professional cleanings and check-ups. Hygienists have special tools that can remove plaque and tartar build-up from teeth that can't be removed with brushing and flossing alone. After a thorough cleaning, x-rays and an exam by the dentist can ensure that any cavities or other disease present can be properly diagnosed and treated in a timely manner.