At Gooding Dental Health, we strive to always provide our patients with the latest in dental technology. In 2014, we brought a digital CAD/CAM Cerec scanner and dental milling machine to our Warwick office. This technology allows us to take digital impressions of teeth, design, and fabricate crowns, veneers, and bridgework in the office. Our digital scanner helps us take fast and accurate records of our patients' teeth without having to deal with messy and uncomfortable impressions.
Having our dental mill in the office gives our doctors the ability to design and create your crown chairside, ensuring it is tailored specifically to each patient. Additionally, our patients don't have to leave the office with a temporary and come back for a second visit. We can prepare a tooth, design a crown, manufacture it, and deliver it all in the same visit. We have a wide selection of shades, glazes, and ceramic materials available to ensure you leave with an end result that looks, fits, and functions perfectly in your mouth.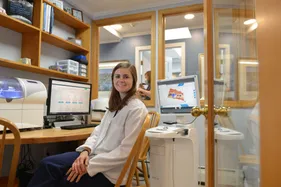 If for any reason a crown is ever broken or lost, a replacement can be made with a simple touch of a button. All a patient has to do is call our office to set up an appointment and we can have it ready by the time you get to the office. Certain restorations may still be sent out and made by a lab if necessary, such as with bridges involving many teeth, or gold crowns. However, our labs accept our digital scans so traditional impressions still won't be necessary.
As of February 2020, we brought an additional scanner into the office, called Itero. This scanner facilitates the Invisalign process for our patients and eliminates the need to take impressions for work ups. Its also used to take digital impressions for occlusal appliances such as night guards and splints. This scanner is also portable, so it can be used at both our Warwick and Wakefield locations.