What is a filling and why do I need one?
Dentists use fillings to replace missing or damaged tooth structure. There are several reasons your dentist may recommend you have a tooth filled. The most common of which is if you have a cavity. A cavity forms when plaque, a sticky layer of bacteria (biofilm), is left on the tooth for too long. The bacteria within plaque use the sugars we eat to create an acidic environment to break down, or demineralize, the hard surfaces of our teeth. This breakdown of tooth structure is what dentists will refer to as decay or a cavity. The first layer of teeth, enamel, is the hardest and provides the highest level of protection against these harmful bacteria. However, once the bacteria is able to bore through the enamel into the second softer layer, called the dentin, it can spread much more quickly. If left untreated, decay in the dentin can rapidly progress to the nerve tissue, also known as pulp, which can cause tooth pain and will require a root canal to remedy.
Your body's saliva carries natural defense mechanisms to try to combat the harmful bacteria in plaque, however this isn't enough to stop tooth decay from forming. It's necessary to practice good brushing and flossing techniques two or more times a day to remove plaque before the bacteria can damage your enamel. Our diet can also play a role in the progression of decay. The more often sugary or acidic foods are consumed, the easier it is for the bacteria to demineralize tooth structure. Even if all these factors are taken into consideration, everyone is different, and some people may be more prone to decay than others. Having professional cleanings and dental exams can help your dentist monitor your oral health and make recommendations specific to your needs.
What types of fillings are there?
The two most common materials used for dental fillings are metal (amalgam) fillings and tooth-colored (composite) fillings.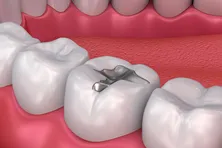 Metal or "silver" fillings are made out of a material called amalgam. The word hints to what it is, an amalgamation of various metals. Dental amalgam is actually an alloy made up of mercury, silver, tin, and copper. The mercury combines with the other metals in the amalgam to make it stable and safe. These fillings are strong and long lasting when placed properly, but have some downsides. They are quite noticeable and require relatively more tooth preparation (drilling) than tooth colored fillings because they rely on mechanical retention to stay in the tooth. They can also take up to 24 hours to fully harden after being placed. Since amalgam is a metal, silver fillings will expand and contract at different temperatures than natural teeth. Over time this can cause microfractures in your natural tooth structure that can worsen if left unnoticed. Lastly, while they have been claimed to last longer than tooth-colored fillings, if they are not replaced when they show signs of marginal wear or breakdown, bacteria can seep underneath and cause undetectable decay. Oftentimes, since the material is radio-opaque (x-rays can not pass through it), when the decay is finally picked up on radiographs, it is extensive and the tooth may require more than just a filling.
Tooth-colored fillings are made out of a material called composite. Dental composite is a mixture of resin and glass particles that form a chemical bond to the tooth. At our office, we exclusively use composite fillings for several reasons. With a variety of shades available, your dentist can create a more aesthetic result. Composite is light cured, which means your dentist can control when it hardens and can take time to shape the filling to better match your tooth. This also allows the dentist to ensure the filling is fully set before you leave. Composites rely on chemical vs mechanical retention, so more tooth structure can be conserved and less drilling is needed. Composite also causes less damage to the surrounding tooth structure because it mimics the structural properties of natural teeth better than amalgam. Lastly, newer composites can hold up almost as long as amalgam, but are not radio-opaque and therefore decay can be detected on radiographs (x-rays) before it gets out of control.
What happens when I get a filling?

If you have been diagnosed with a cavity and need a filling, your dentist will first
determine the extent of the decay using x-rays and a thorough clinical exam of the tooth. Your tooth is then anesthetized and your dentist will remove the decayed area tooth with a dental drill. Once the tooth is completely clean from infection, the remaining tooth surface is prepared with an etchant solution and a bonding agent. These allow the filling material to chemically adhere to the tooth. The filling material is then placed and shaped by your dentist and hardened with a curing light. Before the procedure is complete, your dentist will ensure the filling
Other possible reasons for needing a filling include restoring chipped teeth or areas of recession that have lost tooth structure. These areas will often have a "cupping out" appearance and are known as abfractions, or more technically as Non-Carious Cervical Lesions (NCCLs). Abfractions can be caused by a variety of external forces such as grinding, erosion, or toothbrush abrasion. These lesions are not only unsightly, but also prone to decay and your dentist will often recommend "bonding fillings" to cover them up.
What happens after I get a filling?
The numbness from the local anesthesia should wear off within a couple of hours. Until then, it's best to avoid drinking hot or cold liquids, and eating on the side of your mouth with the new filling. Some sensitivity to temperature and biting is normal in the first couple of weeks. If it persists beyond that, it could signal that an adjustment to your filling needs to be made. Continue to brush and floss as normal every day, and don't hesitate to contact your dentist if the pain or sensitivity worsens.