The doctors at Gooding Dental Health are trained in Invisalign tooth movement to give our patients access to orthodontic dentistry without having to visit another office. Invisalign utilizes clear aligner technology to move teeth discreetly. With clear aligners, patients don't need to wear bulky brackets and wires to achieve perfectly aligned teeth.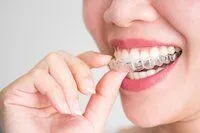 Instead, a set of clear plastic aligners are made specifically for your teeth. Each aligner is made with small progressive changes that gradually move your teeth into a more ideal position. The aligners are completely removable, so patients can remove them when eating and brushing and flossing their teeth. In some cases, a small amount of dental composite, tooth colored filling material, is temporarily bonded to the surface of teeth. These bondings, called "buttons", don't require any drilling and aid in more complicated tooth movements. Since they are tooth-colored, they are much less noticeable than traditional brackets and will be completely removed after treatment is complete
The clear aligner technology achieves tooth movement by having patients wear each aligner for 2 weeks for a minimum of 22.5 hours per day, allotting about 30 minutes for each mealtime. Each aligner will feel tight the first few days they are worn and will gradually fit better the at the end of the 2 weeks, as your teeth shift into the new position.
Our doctors are dedicated to ensuring your teeth are moved properly and safely. We check every patients progress between each aligner to make sure all teeth are in the correct position before moving on to the next aligner. This method allows us to make changes to treatment if necessary before it is complete, saving patients the time and money that would go into retreatment.
As with all other facets of our office, we always strive to be up to date on the latest in dental technology to improve our patients dental experience. We use the newest
Itero scanner
in our office. This scanner eliminates the need to take messy traditional impressions and allows us to digitally scan patients mouths for quick and easy impressions. We can then use these digital impressions to complete a full invisalign work up, where our doctors analyze each tooth position and write up a specialized tooth movement prescription. This prescription is then used to create a digital simulation of your final smile, so patients can see their end result and work with the doctor on what they want to achieve before beginning treatment. With the Itero, we also have the ability to give patients a chairside simulation of their potential smile outcome in minutes with
no commitment.



Our doctors believe its never too late to have a beautiful smile, so don't let age or a fear of change stop you from achieving the smile of your dreams. Invisalign opens up so many possibilities for our patients. Invisalign is a non-invasive option that can give patients the smile they've always wanted while preserving their natural teeth. For individuals who have lost or damaged tooth structure, Invisalign can be used to move teeth into an ideal position prior to restorative work for a more natural and functionally stable end result. Our doctors are always happy to discuss all options with our patients so they can feel comfortable and confident choosing the best treatment for their needs.